Last month I posted the first sneak peek of what you can expect from the upcoming Seq "v2" release.
Since then, the final pieces of the UI have been put (back!) into place, bugs have been squashed, and we've incorporated feedback from some helpful early adopters.
Today, though there remains plenty to do, we're ready to open up the beta to a wider audience. You can now download the latest installer from the Seq homepage.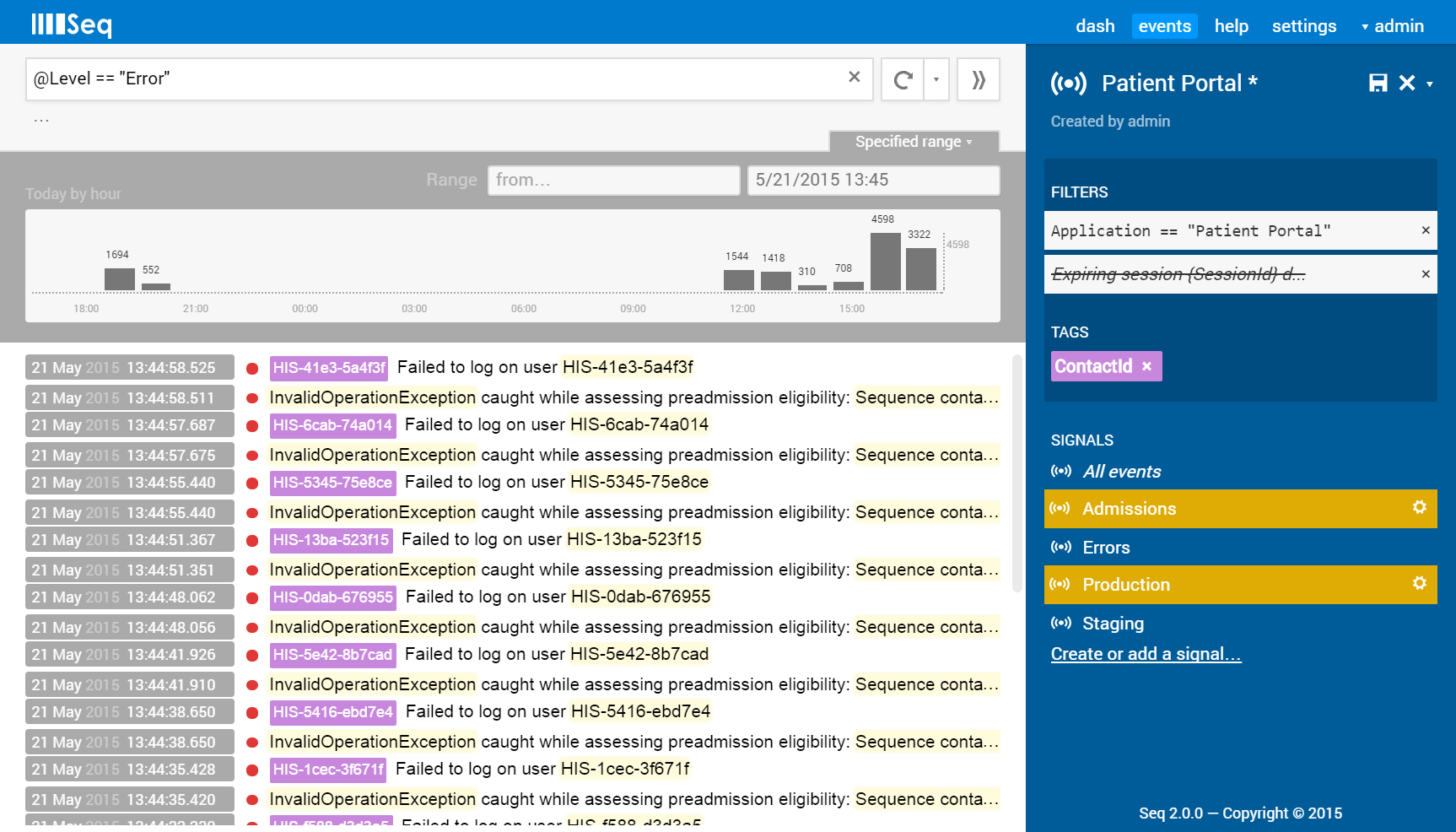 Shown above is the fledgling "Timeline" view, that displays the distribution of matches for any Seq query inline.
What's inside?
Recapping from the earlier post, the new release is strongly focused on user experience, both by simplifying the UI and underlying model, as well as improving common scenarios and considering the needs of larger projects and teams.
A few of the more noticeable differences:
The UI is much more responsive in basic scenarios

Queries and views have been combined into a much simpler and more powerful "signal" concept

Each user gets their own view of the available signals in the system – signals created by other users can be added explicitly

Property and built-in function names are auto-completed in the filter bar

Filter syntax help is shown under the filter box when an expression isn't recognized

The interface is much friendlier towards touch devices

The dash layout is more compact, getting more info onto the screen in a more useful format

Filtering by date and time is easier

You can see the distribution of events across a time span without adding a dash item

It's simpler to create a CSV export from all of the currently tagged properties (no more "Properties of Interest")

Oh, and it's now much easier to select text from log messages
A lot of small bugs and annoyances have been fixed too, and the theme updated to be clearer and more consistent throughout the settings screens.
Installing Seq/2
The goal of the beta release is to get your feedback, and from that angle we'd love you to install it. Here's what you need to know first.
Stability
The current release is a beta. It's not perfect - we wouldn't recommend upgrading critical servers just yet - but it's usable enough for real-world installations.
Bug reports are greatly appreciated - you can post those on the issue tracker or email us at our support address. Some known issues are listed below as well.
Licenses
As before, Seq/2 comes with a free single-user license that you can use out of the box.
If you've purchased Seq in the last twelve months, your license will cover your upgrade to version 2 for free; just go right ahead.
If you have an older license, or just want to try Seq for the first time, you can grab a trial key from the Seq website or contact our support address for help.
Known issues
At the time of writing:
The date/time pickers in the timeline view don't show popup calendars

Substantial problems have been reported when using Google Chrome "Canary"

Manual event deletion is not available

Deep linking into a missing/deleted signal will leave the UI stalled

The API client has not been updated to the latest version
What's next?
We're hard at work to put the finishing touches on the final version. We plan to post another beta in the next week or two, and at present we're aiming for a mid-year release.
Thanks for your help - go get it! :-)